Mac Liquid Damage
It's good to mix, but not this way…
Think we all know that water and electricity don't mix too well. Has your Mac suffered from liquid damage? Our services offer fast and cost-effective way to not only save your computer but bring it back to life after water or other liquid spillages.
Maybe your damages Apple product is a MacBook, a MacBook Pro, an Air or iMac. Whichever model you have, rest assured that we can clean or replace all liquid damages components and have you back at the keyboard real soon.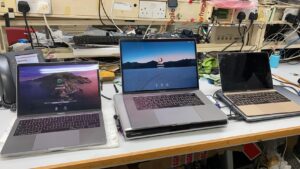 Did you realise that Apple's one year warranty, which comes with all their new products, doesn't cover you for liquid damage?The same applies to the Apple Care Protection Plan. They're no fools of course, because the average price for a Mac liquid damage repair can be enormous, depending of course on the extent of the damage.
Faced with such costs, you might think it more sensible to dump the Mac and buy a new one. But don't rush to do that. When Apple Care doesn't, we certainly do care. Our Mac tech guys at Home Computer Repairs Kent offer a Mac liquid damage repair service which is very fairly costed and aimed to get you back in action as soon as possible.
Our friendly and efficient Mac liquid repairs services are right on your doorstep in the Beckenham area. We use only quality replacement components, which come with a year's guarantee.
We work to suit your busy lifestyle
Take MacBook users. Often they have hectic lives balancing work and family and they use their MacBook across both domains. The machines are for business and family life – work as well as play. Which is why our technicians are available in the evenings and at weekends. We can come to you if dropping off your Mac with liquid damage at our Beckenham workshop proves difficult.
Just remember please. If your Mac does come into contact with water or any other liquid, turn the power off immediately and leave it off. Then call us on 020 8658 4366 to start the rescue mission.
The results of Mac liquid can be obvious from the start – monitor display flickers or perhaps clacking noises sounds coming from inside the unit. You can't run your laptop like this otherwise you'll do more harm. Shut down the Mac and disconnect the power supply. Then phone us at Home Computer Repairs Kent on 020 8658 4366 and a member of our Mac liquid damage repair team will come to your aid – and fast.
All the repair work is carried out by us locally in Beckenham. In the majority of cases with MacBooks we can even get it back to you on the same day.
Don't beat yourself up over spilt milk – or any other liquid on your Mac
Things like spillages can happen to anyone. In the heat of the business meeting, a cup of coffee could you flying. Kids also think that blowing water through a straw into a USB port when your back is turned is fun – just to see what will happen. Unfortunately, they soon find out – as do you! To bring you cheer we just charge you trade price for the genuine Apple parts we use inMac liquid damage repair at Home Computer Repairs and our time in doing the work of course.
If for instance your MacBook Air suffers water damage and the unit's left unattended, critical components internally can short out or start to corrode. You'll return to find hellish performance issues and worse. By contacting us at Home Computer Repairs Beckenham we'll take action on Mac liquid damage repair to make sure no serious problems remain inside your MacBook.
What can I expect to pay for Mac liquid damage repairs in Kent?
Well, if you pack off your laptop back to Apple for liquid damage repair, you might have to extend your overdraft. Repairs for liquid damage with them would roughly work out at two-thirds of the retail value of your Mac, over even higher. So, by going to Apple you might just bite off more than you can chew financially and leave a nasty taste in the mouth.
A second bit of info on your Apple Care plan. We've already said it won't cover Mac liquid damage repair. What's more, there's no pulling the wool over their experts eyes because all the newest Apple notebooks, iPad and iPod devices have Liquid Contact Indicators fitted. These show the that liquid has been present in the device, even after the machine has been dried out. If they detect your machine has been tampered with the wrong way, water indicators aside, your warranty or Apple Care Plan become worthless.
Why put yourself through all this hassle? Call Home Computer Repairs Beckenham now on 020 8658 4366 and we'll take things from there in sorting your Mac liquid damage repair.